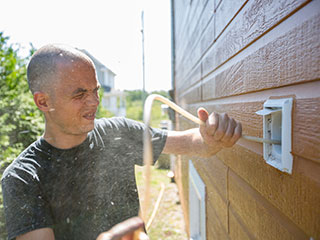 Increased energy costs, damaged clothes, and even home fires - these are all potential outcomes of a blocked dryer vent. Air Duct Cleaning Laguna Niguel can help you identify and clear any problems with your dryer exhaust. Keeping the hot air ducts of your dryer free from obstructions is critical. There are plenty of problems that can be caused by buildups of lint, dust, and other debris. You may find your clothes becoming damaged, or remaining damp after a full drying cycle. It's even possible for a blocked dryer vent to pose a fire hazard. You see, restricted airflow can create a type of oven-like situation with a clogged dryer vent. Not only will this lead to higher energy bills, but also very real risks.
Causes Of Clogged Dryer Vents
The drying process invariably produces a lot of lint and dust, as clothes are spun and heated at high speed. Much of this is caught in the filters and traps between your dryer and the vent, but enough makes it through to accrue over time. This is especially true if there's anything caught in the duct already, such as loose insulation. This provides a lodging point for lint to build up. Blockages in the dryer vent make it more difficult for the machine to do its job. That means it works longer and harder to dry laundry. The overheating situation and the flammable lint and fabric clogging the dryer vent create a fire hazard that you need to clear out.
Clearing and Cleaning Laguna Niguel Dryer Vents
If hot air isn't able to easily leave the dryer, you'll find some problems beginning to occur. Probably the most immediately concerning is the possibility that your clothes will be damaged. This is because temperatures within the dryer will exceed what it's designed to produce since hot air cannot be properly vented. This can also prevent your clothes from drying properly; although temperatures are very high, if the moist air is unable to leave the machine then your clothes will stay wet. This means repeated dryer cycles will be necessary, which is very expensive. And remember, help is always close by. You've got local professionals like our specialists that can help with any dryer vent cleaning service you need near Laguna Niguel.
Real Fire Hazards From Blocked Dryer Vent Ducts
Perhaps the most serious risk you run is that of a fire in your dryer or the vent. Lint is about as combustible a material as you can imagine, and when it's allowed to pile up near a high-temperature electrical appliance, it poses a real hazard. Fire doesn't need much to catch. And what's worse, with more flammable materials nearby, fire can end up spreading quite wildly and quickly if you neglect cleaning the dryer vent. So take care of the necessary precautions and at least have the dryer vent duct cleared every so often to prevent blockages and clogs.
Cheap Dryer Vent Cleaning Services Near You
Looking for help with cleaning and clearing out a blocked dryer vent? You've got professionals already close to your area ready to help. It's not always obvious when your dryer vent needs cleaning, and often we don't notice the warning signs until it's too late. Avoid this by having your dryer vent cleaned by Laguna Niguel HVAC experts. Our vent cleaning technicians can help with all problems to do with dryer and air ducts in your home or business.