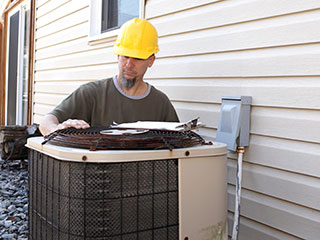 Keeping your air ducts and vents clean is important, but the HVAC (Heating, Ventilation, and Air Conditioning) unit is the center of the entire system. All of the air that comes out of your vents passes through this sensitive machine, meaning dust and dirt can build up fairly rapidly inside of it, especially during hot or cold weather when you're using it a lot. Keeping the HVAC clean is necessarily for keeping it working into the future.
Cleaning The Filters
When the air from outside the building is drawn into your HVAC unit, it passes through a series of gauze or synthetic fiber filters designed to keep out dust and other pollution, both to protect the machine itself and to keep the air inside your house clean. Over time, this dirt builds up across the filters until eventually they become completely clogged. Taking out the filters and cleaning them from time to time is essential for keeping the HVAC unit running, and eventually they will need to be replaced with fresh filter screens.
Cleaning The Grilles
The metal screens that the air passes through to enter or leave the HVAC unit can also get dirty; not everything gets caught in the filters, and ambient moisture can also cause the grilles to rust and corrode. Like filters, the grilles need periodic cleaning by a professional to keep the HVAC system from overworking itself or becoming filled with dirt. Our local team is happy to provide both services.
Better Now Than Later
The dirtier your HVAC gets, the harder it needs to work in order to keep air moving, and eventually this can lead to overheating or mechanical jamming. Getting your HVAC unit repaired-or even worse, replaced,- can be a drawn-out and expensive process. But with an easy cleaning and filter-replacement session every now and then, you can avoid this entirely!
Contact Us
Keep your ventilation system clean and unobstructed, especially if you're expecting a hot summer, cold winter, or dusty spell. Call us today, and our professionals can be at your home or business at the soonest convenience.